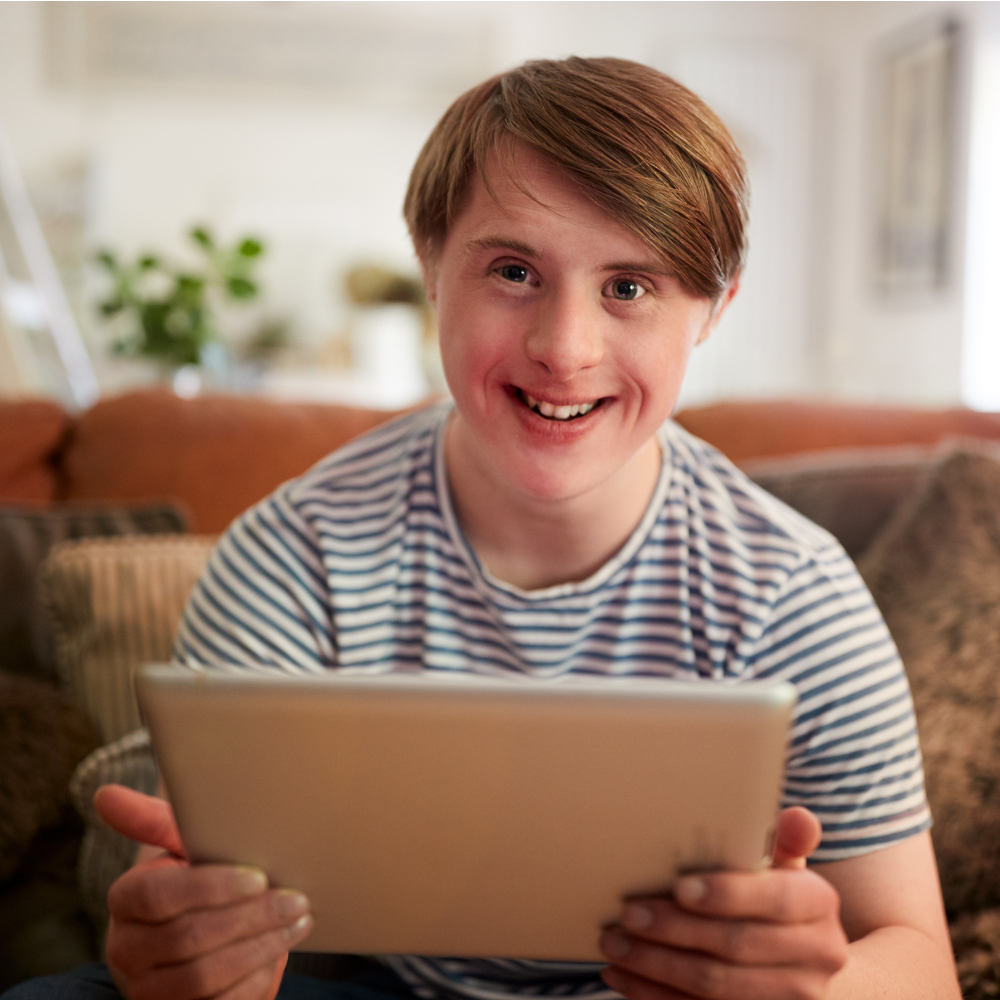 Designed for a range of extreme functional impairment or very high support needs, SDA homes offer people a comfortable space to live while receiving personalised support to achieve their goals.
Choosing SDA with Aspire Hub means you can enjoy living in a safe and secure home, close to nearby amenity and services, all while receiving quality support from our experienced and caring team.
Enquire now about SDA with Aspire Hub.
Enquire now
What is Specialist Disability Accommodation?
Specialist Disability Accommodation (SDA) is a type of NDIS housing designed for people who require specialist housing solutions. SDA is entirely accessible and built with features such as ceiling hoists, home automation, and assistive technology. More importantly, our SDA homes are managed by experienced staff who are accredited and trained to provide complex support.
If you've received funding for SDA in your NDIS plan, it's important to note that this does not cover services or support.
Is Specialist Disability Accommodation right for me?
You may be suitable for SDA if you have high support needs or extreme functional impairment. Extreme functional impairment means you may have a difficult time completing personal tasks, taking care of yourself or moving around on your own. Similarly, if you have high support needs, it means you require a lot of person-to-person specialist support.
If you aren't sure which type of NDIS housing is suitable for your needs, get in touch with us today.
What is included with Specialist Disability Accommodation?
SDA is a category of home that meets a certain criteria of design standards to provide high levels of support in a flexible, shared living style. The inclusions within an SDA will differ from home to home as each is customised to suit the needs of the people residing there.
Although SDA does not include any ongoing, in-home supports, services and supports can easily be delivered within this type of accommodation.
To enquire about in-home supports that you can receive within your SDA home, contact the team at Aspire Hub.
Specialist Disability Accommodation – Current Vacancies
As a leading provider of supported accommodation, our growing list of quality NDIS housing locations spans south east Queensland, from the Gold Coast to Logan City, Ipswich and Brisbane City, and will also be expanding in the Western Australian region of Perth.
Learn more
"Through our experience, we have established a strong foundation with our services to ensure that we deliver quality and compliant supports that will grow with our clients."
- Chris Joseph, Director at Aspire Hub
Have more questions about Specialist Disability Accommodation with Aspire Hub?
Aspire Hub offers a range of disability accommodation services that are tailored specifically towards your needs and goals. Click here to compare our NDIS Housing & Services to see which one is right for you.
SDA requires pre-approval from the NDIS. You will need to demonstrate that SDA is reasonable for your individual goals and wellbeing before qualifying for funding. Contact us for help.
With no waiting lists at Aspire Hub, our friendly team can offer you support as soon as possible.
About Aspire Hub
With more than 30 years' combined experience in the industry and endless hours spent listening to our customers, you can feel confident that you are in safe hands with the team at Aspire Hub.
As an NDIS registered provider, Aspire Hub meet strict government quality and safety requirements, and have proven experience managing complex and high needs.
We're always looking for ways to grow and improve. With our customers at the heart of everything we do, we strive to achieve the best results for you, your loved ones, and your other service providers.
Learn more
Enquire now about Specialist Disability Accommodation with us