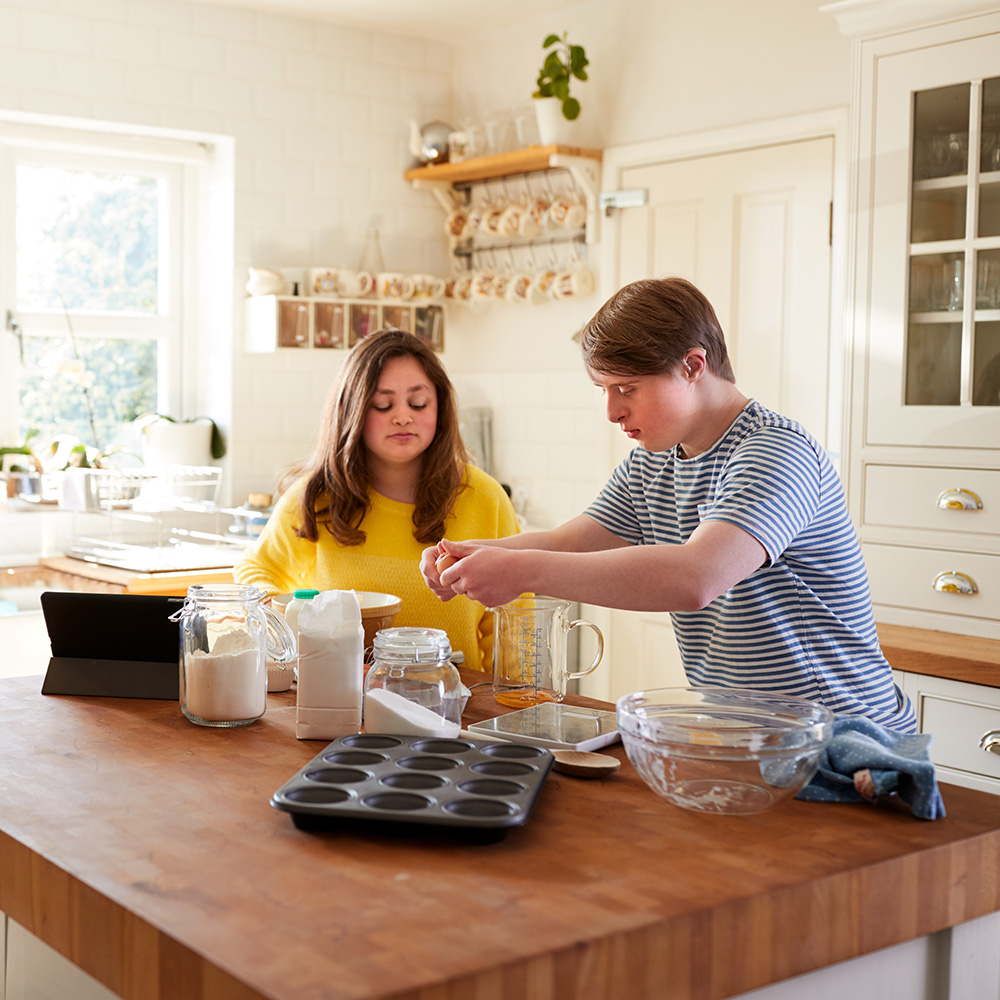 NDIS Individual Living Options (ILO) are flexible support packages that are customisable to you and your unique needs. Under an ILO, you've got the freedom to choose how and where you want to live, and the types of assistance you need daily.
Designed to create a sense of belonging and to build independence, Aspire Hub's ILO services are tailored to your preference and goals.
Enquire now about ILO with Aspire Hub.
Enquire now
What is an ILO?
An ILO arrangement allows you to access the support you need to live independently in the house of your choosing. While each arrangement is unique, ILO can include things like personal care, assistance in developing your skills, or support with household tasks like cooking and shopping.
It's important to remember that ILO is a package of supports rather than the type of home you live in. Funding for ILO cannot be used for expenses like your rent or mortgage. If you're wanting to learn about the NDIS housing & services we offer, click here.
Is ILO right for me?
While ILO arrangements are determined on case-by-case basis, it's worth exploring if:
you're 18 or over
you require at least 6 hours of daily help at home
you don't need daily registered nursing care or frequent support overnight
you're ready to explore alternative options for your home and living needs.
If you think ILO might not be the right fit for you, contact us to explore other options.
What's included with NDIS Individual Living Options (ILO)?
Assistance in personal care, such as assistance in showering, oral hygiene, dressing and toileting.
Assistance in medication management, including storage and administration of medication.
Assistance in personal development to support you in achieving your goals.
Assistance in lifestyle and recreational activities, such as engaging in your favourite hobbies, visiting local attractions, meeting new people, and engaging with the community.
"At Aspire Hub, our customers are in the heart of everything we do. We listen to our customers and build supports around them, so they feel safe and confident to live the life they choose."
- Cherryl Joseph, General Manager at Aspire Hub
Have more questions about Individual Living Options with Aspire Hub?
Aspire Hub offers a range of disability accommodation and services that are tailored specifically towards your needs and goals. Click here to compare our NDIS Housing & Services to see which one is right for you.
Individual Living Options (ILO) require pre-approval from the NDIS. If you're not sure if you have funding, or for help applying for funding, get in touch with us today.
With no waiting lists at Aspire Hub, our friendly team can offer you support as soon as possible.
About Aspire Hub
With more than 30 years' combined experience in the industry and endless hours spent listening to our customers, you can feel confident that you are in safe hands with the team at Aspire Hub.
As an NDIS registered provider, Aspire Hub meet strict government quality and safety requirements, and have proven experience managing complex and high needs.
We're always looking for ways to grow and improve. With our customers at the heart of everything we do, we strive to achieve the best results for you, your loved ones, and your other service providers.
Learn more
Want to learn more about the other services we offer?
Complete the form below and we'll be in touch with you or call us at 07 3074 9440.