Things to consider before moving into disability accommodation
July 18, 2022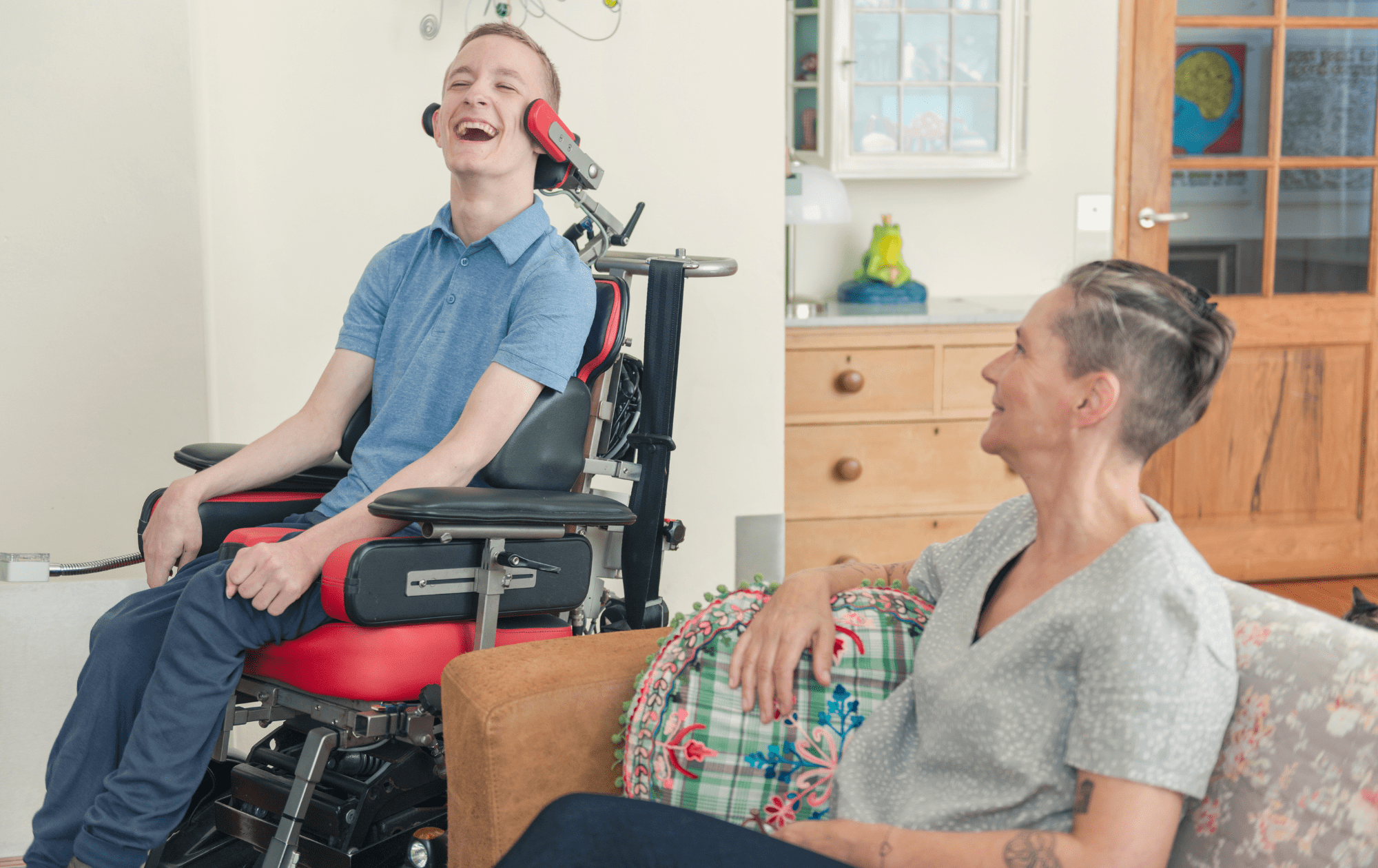 If you're looking at moving into disability accommodation, it's natural to feel both excited and nervous at the same time. However, moving into a home without a proper plan or consideration for your overall needs and wants could result in you choosing disability accommodation that is not suitable for you.
At Aspire Hub, we've developed a list of things you should consider before moving into disability accommodation.
What will the household dynamic look like?
Imagine this. You've looked online for a suitable property using a tool such as the NDIS' SDA finder and have found a couple of properties in your local area that you think might suit you. Great! Using a tool such as the NDIS' SDA Finder might tell you how many residents currently live there, but it might not give you a breakdown on 'who' lives there, their hobbies, personality and lifestyle.
Here is an example listing you may see and the details provided: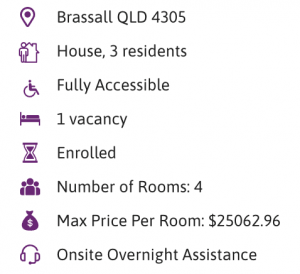 When you engage an NDIS housing provider like Aspire Hub, we know each participant and accommodation resident personally, including what they're like to live with, so you can feel confident that you'll receive as much information as possible before you decide on your future home.
Our dedicated and experienced team work hard to find the ideal match for each participant and home – this not only saves you the worry of looking through options, but it also means you're more likely to love where you live and make a new friend while you're there!
Here is an example of some details we share within our vacancies and listings for Aspire Hub: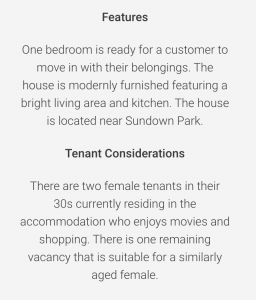 Once you have a better understanding of what the household dynamic might look like, you can make an informed decision on whether you think you'll enjoy living in this type of disability accommodation.
Does the home meet your requirements?
There are different categories of housing available to participants – each suited to individual wants and needs. For example, those with high or complex care needs are most likely suited to live in Specialist Disability Accommodation (SDA) – purpose-built, accessible homes that allow participants to move safely and freely throughout the home with no restrictions.
If you're unsure which type of NDIS accommodation is suitable for you and your needs, we have an easy-to-understand resource that might make things clearer for you. Visit our NDIS Housing & Services page to learn the different categories of disability accommodation, and who they might be suitable for. If you already have an NDIS plan in place, our team can help you to understand what you're approved for and find a home that best suits you.
Is the home in an area you know and love?
A property might tick most of your boxes, such as the perfect kitchen appliances, the right type of tenants and the accessibility features you need, but none of these matter if it's in an area you don't feel comfortable in.
As a leading provider of supported accommodation, Aspire Hub's growing list of quality housing locations spans south-east Queensland, from the Gold Coast to Logan City, Ipswich and Brisbane. We're also finding some great homes in Perth for our Western Australian participants.
When you choose to engage Aspire Hub to find an NDIS-approved home, our experienced team can help you find the perfect place in a location that suits your needs, with no waiting lists guaranteed.
Take our Ipswich properties for example. They are close to a variety of amenities including public transport, medical facilities, retail precincts, entertainment, dining and more, so you'll have everything you need to live an independent and fulfilling life. Most importantly, our Ipswich properties are safe places where you can live a comfortable and enriching life.
Do you know what your NDIS plan does and doesn't cover?
It's always important to consider what your NDIS plan does and doesn't cover before moving into your desired disability accommodation. For example, it's worth noting that NDIS participants are responsible for their own day-to-day living costs like rent, groceries, utilities, telephone or internet costs. Most participants are also responsible for funding their own general household items, such as a bed, fridge or cooking utensils. However, there are some circumstances where the NDIS may make a contribution to these costs. If you have a plan manager, it's worth chatting to them about what the NDIS does and doesn't cover, so you're not shocked by any surprising bills or costs.
When it comes to finding an NDIS home that's right for you, speak to the experts. Our team at Aspire Hub have over 30 years' combined experience in the disability sector, so you can feel confident that you are in safe hands. With no waiting lists and a team that is passionate about connecting you with a property that's perfect for your needs, we can ensure you're matched with a home in a premium location. Call 07 3074 9440 or fill out an enquiry form here to kickstart your NDIS accommodation journey with Aspire Hub.
Want to learn more about our team or the services we offer?
Complete the form below and we'll be in touch with you or call us at 07 3074 9440.