Finding the right accommodation and exploring housing options with NDIS
April 4, 2022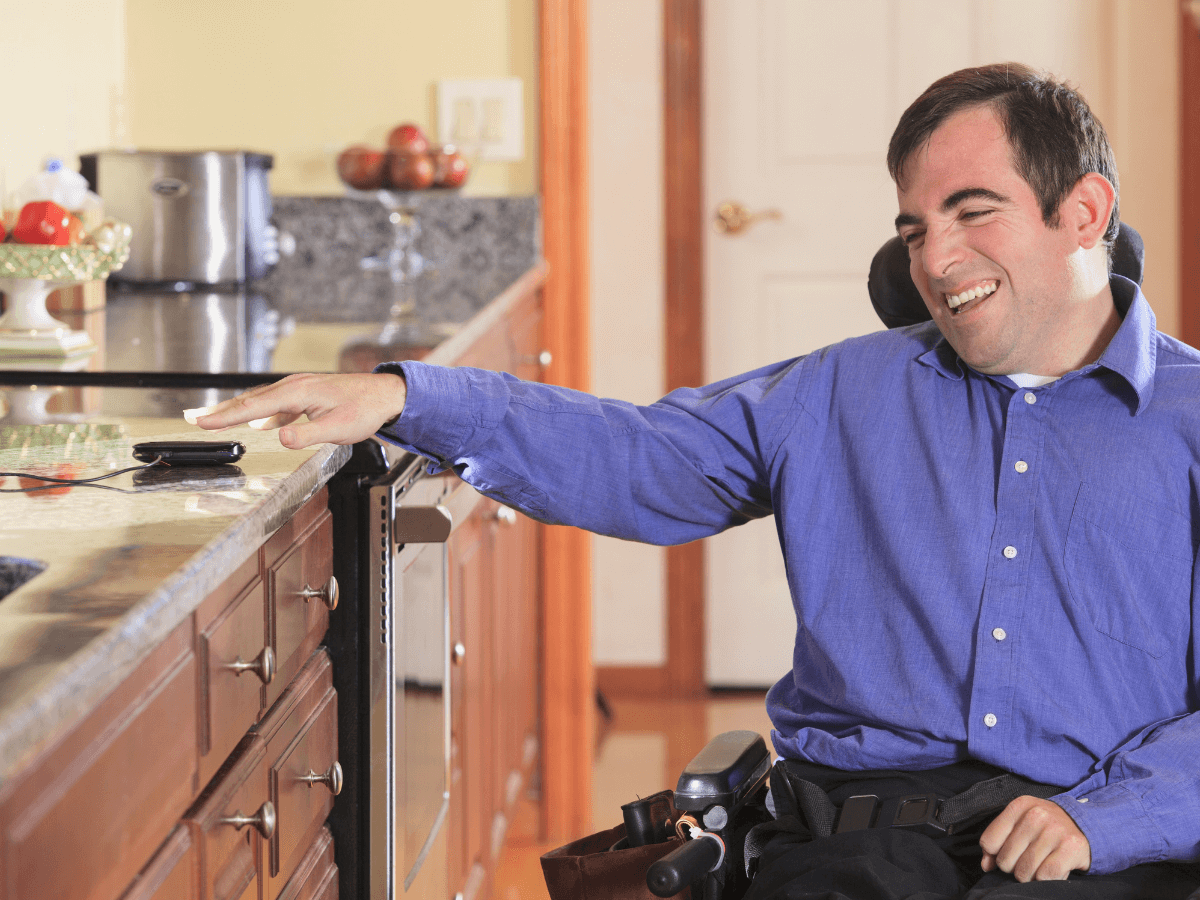 Need help finding the right type of supported accommodation to suit your needs? Aspire Hub has you covered.
At Aspire Hub, we believe every person should have access to a safe and secure place to call home. Not only that, but we also believe every person should have a home that is entirely accessible and suitable to their unique needs. 
Finding the perfect home to suit your needs is exactly what we're all about at Aspire Hub. So, if you've been thinking about exploring housing options with NDIS but you're unsure where to start, you've come to the right place. 
Exploring housing options with NDIS
There's plenty of different NDIS housing options or packages available, depending on your funding and needs. From Short- and Medium-Term Accommodation through to Specialist Disability Accommodation (SDA), there's a housing option to suit everyone. If you're unfamiliar with these housing terms, we break them down for you below.
Short and Medium Term Accommodation – Short Term Accommodation (STA) is funded under the NDIS to provide participants with respite from their day-to-day routine. This stay is designed to give you time to relax and recharge, all while doing the things you enjoy. When you choose Aspire Hub as your STA provider, you're positioned close to amenities, attractions and recreational activities that are suitable for your respite stay.
Medium Term Accommodation is for participants waiting for a long-term housing solution from the NDIS. Participants typically receive funding for this type of accommodation for up to 90 days of a year. 
Who is suitable for STA/MTA? While only certain participants are eligible for MTA, a participant may receive funding for STA if they can demonstrate that time away from their usual home gives informal supports/carers a break, or that respite stay can help them pursue their goals and meet new friends. 
What else do I need to know about STA/MTA? NDIS participants may be funded up to 28 days of STA in a year, and participants can pick and choose how and when they want to use these days. You can pick and choose certain weekends or weekdays of the year you'd like to stay in STA, or alternatively, you can take your respite in a 14-day block (the maximum amount of time you can choose for an STA stay).
Specialist Disability Accommodation – Specialist Disability Accommodation (SDA) is designed for NDIS participants with complex care needs that require purpose-built accommodation that is safe and accessible for them to live in. These speciality homes are fitted with the technology and features required to support an individual's extreme functional impairments or high support needs.
Who is suitable for SDA? A participant may receive funding for SDA if they extreme functional impairments that make it difficult to complete personal tasks, take care of themselves or move around on their own. Participants with high support needs that require a lot of person-to-person specialist support may also be suitable for SDA.
What else do I need to know about SDA? SDA does not include any ongoing in-home supports. However, these types of services can easily be delivered within an SDA home. 
Supported Independent Living – Supported Independent Living (SIL) gives participants the tools and confidence they need to live a more independent lifestyle. As an in-home support, SIL can be delivered in your current place of residence, or a specific NDIS home. This type of support is perfect for those wanting to build their confidence in areas such as cleaning or nutrition.
Who is suitable for SIL?  SIL is best suited for NDIS participants with higher needs that require help throughout the day, as well as overnight support. 
What else do I need to know about SIL?  This funding cannot be used to pay rent or groceries. 
NDIS Individual Living Options – Individual Living Options (ILO) are perfect for those ready to explore a living arrangement that is more flexible and tailored to their individual needs. ILO can include support for things like personal care, right through to providing you with assistance in household tasks like cooking and cleaning. 
Who is suitable for ILO? ILO is suitable for NDIS participants who are 18 or over that require at least six hours of daily help at home. It is not suitable for those who require daily registered nursing care or frequent support overnight. 
What else do I need to know about ILO?  ILO do require pre-approval from the NDIS, so if you're not sure whether you've got the funding or not, get in touch with Aspire Hub today. 
Can I combine accommodation options?
In some circumstances, a participant may require more than one NDIS accommodation service. For example, a participant living in an SDA home may require SIL supports and services. If you're still exploring housing options with NDIS and are still feeling confused about which package is right for you or what can and can't be combined, reach out to the friendly team at Aspire Hub – we'd love to help you out. 
Why should I choose Aspire Hub over other NDIS accommodation providers?
Aspire Hub's growing list of quality NDIS housing locations spans south-east Queensland, from the Gold Coast to Logan City, Ipswich and Brisbane City. 
With more than 30 years' combined experience in the industry and thousands of hours spent listening to our customers, Aspire Hub is passionate about providing our customers with premium NDIS housing options and packages. So, if you're looking for an NDIS provider who is committed to providing you with a safe and accessible home, reach out to the team today!
Want to learn more about our team or the services we offer?
Complete the form below and we'll be in touch with you or call us at 07 3074 9440.